Realtor Emily Gunlock has a very important role with Gunlock Homes. In addition to securing lots for our spec homes, Emily is integral to the building process, from working with architects and interior designers to collaborating with her husband (owner Brad Gunlock) on future projects. As if that weren't enough to keep a gal busy, Emily is broker/co-owner of Gunlock Hoster Group at Re/Max of Cherry Creek Inc., a highly regarded real estate agency here in Denver.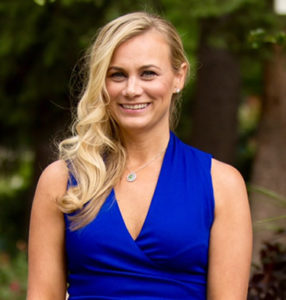 We recently asked Emily to tell us more about her work, sources of inspiration, and her thoughts on Denver's growth. Here's what she had to say:
What are you most proud of about your work?
Tough question. I think I would have to say that I am most proud of how my business has become 100% referral based over the years, and I feel like that comes from doing my best to provide excellent service to my clients. I am committed to going the extra mile as the market changes to find solutions that are in the best interest of my clients.
What should people look for when hiring a realtor?
In my experience, the number one thing that I would say is trustworthiness. Especially in today's market, I think that you really have to commit to becoming a team with your agent and trust them to advise you and work hard for you. Real estate is a short-term marriage and you need to be on the same page.
What advice do you have for someone thinking about buying a house in Denver?
Umm…Call me! Just kidding. I think now more than ever, you have to be as prepared as possible ahead of time. You need to really carve out time to be available to get into properties right away, have your financing in place, stay positive that the right house will come along, and be patient. It also goes back to hiring someone you trust who is connected in the broker community and can use all resources to find you the right property.
What are your thoughts on Denver's growth?
It's exciting, but at the same time it makes me nervous. I love to see development, but there are a few neighborhoods that I feel like are looking a overdeveloped with lots of traffic, parking issues, and properties that don't look like they were built to withstand the test of time. I am a big supporter of smart development.
What Denver neighborhoods are you excited about right now?
I think what is the most exciting about all of Denver's neighborhoods is all of the new small businesses and restaurants everywhere. I love to try out new restaurants and coffee shops around town.
Favorite place to go in Denver?
Wash Park. I feel lucky to live just a few blocks away from the playgrounds, lakes, open spaces, and running path. A walk/run or bike ride with my kiddos in the park is definitely restorative.
Last book you couldn't put down?
Girl on a Train. I don't have a lot of time to read, but I loved this book and I'm grateful for my friend Kasey who keeps me in the loop with great book recos.
What advice would you give to your 20-year-old self?
Just Breathe. I think any big (or sometimes small) decision that has happened in my life, at times, I've been too quick to react or respond. My son, Miles has been rapping the Hamilton soundtrack non-stop lately and he sang this line the other day (no less than 50 times) that has stuck with me: "Every action has an equal opposite reaction." I'm a big believer in what you put out there is what you get back. So, taking some time to just breathe before responding is great advice for my 20-year-old self. It is still my challenge.
What makes you happiest?
Balance (or perceived balance). At the end of every year, I always take some time to reflect. The questions I ask myself are usually the same: Did I meet my sales goals for the year? Did I travel as much as I wanted to? Did I spend time taking care of myself physically and emotionally? And most importantly, did I spend a lot of quality time with my family, friends, husband, and kids? If I feel like I did the best I could at each, I consider that a very successful year and that makes me very happy.
To learn more about Emily Gunlock's work, visit Gunlock Hoster Group.