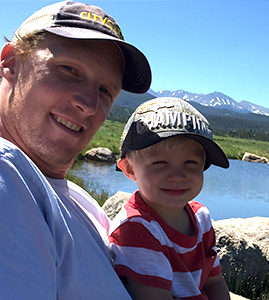 Brad Gunlock, owner of Gunlock Homes, is a man of measured words. Recently, we asked him if he would open up about his work, his life, and his thoughts on Denver's growth. Lucky for us, he was up for the challenge. Here's what Brad had to say:
What are you most proud of about your work?
That I've been able to assemble a great team of people who work extremely hard to create and transform beautiful homes for people to share with the ones they love. 
What advice do you have for someone starting their own business?
For me it's balance–pushing and striving to be the best, but always checking in with yourself to look not only at the direction in which the business is growing but taking stock of how your personal goals and happiness coincide with that.
What are your thoughts on Denver's growth?
I'm honestly a little concerned about the growth in Denver. I've seen signs recently that things are cooling a bit and I think that is a good thing. We want to maintain a sustainable growth and not fall into another trap where everyone is chasing easy money. I feel like that was a lesson I personally learned through the financial crisis, success is never an accident and nothing good comes without putting in the hard work.
Favorite place to go in Denver?
I'm amazed by the whole LoHi neighborhood, the transformation that has taken place in the last five years. It's a really cool area with some amazing restaurants, shops, etc.
Favorite place to visit in Colorado?
Telluride, the third weekend in June.  
Last book you couldn't put down?
"not always so" by Shunryu Suzuki
Where do you find inspiration?
Nature, silence, water…and my wife, Emily. 
What advice would you give to your 20-year-old self?
Jesus buddy…take it easy.  Seriously though, I wish I would have done more traveling. Backpack across India or Southeast Asia or something like that.
What makes you happiest?
Laying with my 6-year-old son, singing him "Amazing Grace" at bedtime, after the light goes off and he finally stops talking.
###